Jennifer at Conversion Diary is hosting a 7 blog posts in 7 days challenge. The idea is to (obviously) write 7 blog posts, 7 days in a row. Considering I want to try to start blogging regularly again, I figure this is my chance. Here goes nothing.
Now I just have to figure what to write about...
Any Bachelor fans out there? I admit it, I'm a sucker for the show. Although this season has been not so great. Juan Pablo is kind of a dud and there is very little drama amongst the girls, so that doesn't exactly make for an exciting season. I don't know what it says about me that I'm into the show as much as I am, but I don't really care. What can I say? I like to sit in my baggy sweat pants, eating my ice cream, 3 months post-partum and 20 lbs overweight, as I watch bikini clad skinny minis duke it out for some guy they just met. Matthew is a lucky guy, let me tell you.
Speaking of being overweight, I'm really embarrassed to tell you that I've...joined Weight Watchers. It's about that time again to jump on the baby-weight-loss train. I generally eat pretty healthy, but I just cannot, cannot give up my sweets. I love me some sugar. It's only been two days since I've joined, but I do notice that I am paying a lot more attention to what I'm eating. Being accountable, if only to an online system, has been a motivator to me, at least so far.
Like I mentioned, I have about 20lbs to lose to be back at my pre-baby weight. That's a lot of weight. It's hard for me to not feel totally self-conscious about my appearance and to not be completely obsessed about losing weight. I'm trying to not be so hard on myself, but it isn't easy. Wish me luck.
Fortunately for my weight loss endeavors, Lent is coming. Since Lent starts a bit later this year, I've had a lot of time to think about what I want to do this year. More about that tomorrow.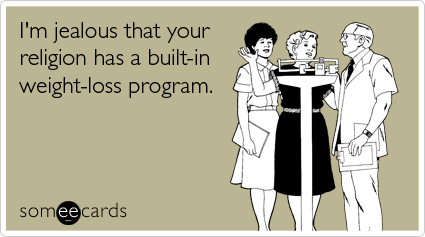 One day down, six to go.